21st – Century Cellists
Conversations on Art and Craft with Yo-Yo Ma, Hai-Ye Ni, David Finckel,
Kenneth Slowik, Laurence Lesser and others
Hal Leonard Publishing Corporation
This collection of interviews sparkles with the individual personalities of some
of this century's most gifted cellists. With voices as unique as their instruments',
these musicians reveal the facets and textures of their professional and personal lives. From the intrepid Bion Tsang to the dynamic Kenneth Slowik and the charming
Yo-Yo Ma, these artists and many others discuss what it's like to be a soloist,
member of an ensemble, composer, mentor, musical activist and recording artist.
How they began, what cultural and historical forces shaped them, how they practice, and what they aspire to – this and more are illuminated in this fascinating volume.
Artists include: David Finckel, Ralph Kirshbaum, Laurence Lesser, Yo-Yo Ma,
Kermit Moore, Carlos Prieto, Hai-Ye Ni, Kenneth Slowik, Bion Tsang, Jian Wang and Peter Wispelwey.
A Genius in the Family – Intimate Memoir of Jacqueline du Pré
Hilary Du Pré and Piers Du Pré
"No family should have less than three children.
If there is one genius among them, there should be two to support him."
The life of Jacqueline du Pré is an enticing subject for biography. Child prodigy
turned superstar cellist, du Pré came from a highly musical family, studied
with the greatest musicians in the world, married the pianist Daniel Barenboim
during Israel's Six Day War in 1967 – and was struck down by multiple sclerosis
in 1973, at the age of 28. From then on her deterioration was swift and merciless.
In 1987 Du Pré eventually died, unable even to feed herself unaided,
let alone play her beloved cello.
Du Pré's closeness to her family – in particular her sister (and early musical rival) Hilary,
and brother Piers – has been well-documented, but the publication of A Genius in the Family
was a revelation. Among other things came the blithe disclosure that the moody, brilliant du Pré,
during a difficult period in her life, regularly slept with Hilary's husband 'Kiffer' – with Hilary's blessing. Controversy raged; were Hilary and Piers saints who sacrificed the limelight and their own wishes to placate this temperamental genius? Or was the book a not-so-subtle attempt to destroy the myth
of the tragic, beautiful du Pré – and to avenge lives lived in her shadow?
These are our memories. This book is not a biography nor an account of Jackie's career. It is simply what happened.
We offer the reader the story of our family, from within, write the authors in the preface to this memoir.
Whatever the motives behind A Genius in the Family, it is a vivid account of the woman
behind the icon, and an enthralling read.
Catherine Taylor
A Modern Cellist's Manual
Technique, Approach and Musings for Every Student
Emily Wright
A very different sort of cello method, A Modern Cellist's Manual
combines technical information and plenty of photographs
with advice on approach.
Topics addressed range from the basics of a painless bow grip
to injury avoidance, working with a metronome, and tenor clef.
Emily's tone and sense of humor lighten the mood of any practice session.
A Modern Cellist's Manual is suitable for those taking private lessons
as well as returning cellists looking to bolster rusty technique.
Bach, The Fencing Master – Reading aloud from the first three cello suites
Anner Bylsma

. . . might very well become your friend
in a way the author hardly could have suspected.
A viola part in 8va and a violin part in 12ma
will be found at the end of the book in which
the slurs of the cello text are painstakingly followed.
As extras you will receive Anna Magdalena Bach's
manuscript of all six suites in the Reinhardt edition
and an interesting article by Mr. Gé Bartman about
possible theological symbols in the preludes of these suites.
My primary goal in the book is to bring players new ideas. If you truly play what you feel, and you play it as well as you can, your honesty will come out in whatever way you do it, whether you use vibrato or not, or whether you use steel or gut strings. All these things don't really matter if the performance is true.
As I say in the flyer for my book, my hope is that "Bach, the fencing master" will become your friend in a way that I could hardly have suspected. It will be a wonderful journey. I promise.
Bowed Arts – Reflections of Bernard Greenhouse on his Life and Music
Laurinel Owen
Bernard Greenhouse, the 'nobleman' among other cellists, tells about his life as an artist. He relates his experiences with teachers like Pablo Casals and
Emanuel Feuermann. He talks about his friends, colleagues and role models and about his years with the Beaux Arts Trio, which he co-founded, shaped and affected as a cellist over 30 years. Readers learn something about his childhood and his first cello lesson in New Jersey, share in his experiences as third oboist in the Navy Band and in his love for sailing and good food.
They also discover Bernard Greenhouse´s great sense of humour together with his tremendous energy and charm in his tales. There is never any doubt about his great love for music, or the deep sincerity he feels towards his profession and vocation – something he wishes to pass on to his students.
In German and English
Casals and the Art of Interpretation
David Blum, Paul Tortelier, Antony Hopkins
This is an immensely valuable book and one which is clearly designed to appeal
to all musicians – not just string players . . .  Mr. Blum has captured in great detail
the little things that so often make a great teacher. I would strongly recommend this book to anyone with an interest in the Art of Interpretation – Music Teacher.
The volume belongs to an exceptional class of literature: it is to be welcomed
as a significant contribution. In his Forward, Antony Hopkins in a most eloquent way
makes us fully aware of our possible great loss had the subject material forming this book
not been preserved for posterity . . . throughout the book one remains not only an absorbed reader, but very much an active participant – Violoncello Society Newsletter.

Now we have an authoritative guide to this great artist's approach to interpretation . . .
a book which should be compulsory reading for every player, conductor and teacher -
Music Journal of the Incorporated Society of Musicians.

Blum has elegantly combined precise music terminology with meticulous music examples to present lucid
and revealing details of interpretation that can be quickly and easily grasped. Only superlatives apply to this book,
and all serious musicians would find immense pleasure and musical profit from reading this work.
Highly recommended at all levels -
Choice.
Casals – photographed by
Fritz Henle

Cellist
Gregor Piatigorsky
In 1965 the popular autobiography Cellist
of Gregor Piatigorsky was published.
Cellist is unfortunately out of print.
With kind permission of the Piatigorsky family
it now is published on www.cello.org.
Cellisten – Cellists
Uta Süße-Krause, Harald Eggebrecht

Today's most famous cellists as well as up-and-coming talents are subjects
of this extraordinary photographic reportage book. For years, Uta Süße-Krause took pictures at festivals, workshops, competitions, rehearsals and concerts
of performing cellists, newly discovered and established leading musicians.
Her photographs capture the individuality of each cellist; all the photographs were taken live without any posing. This collection was taken from her own photo archives, and these were selected for their absolute authenticity
portraying faces as the mirror of musical sentiment.
As different as each cellist's state of mind may be, they all have one thing in common:
unconditional dedication to their play.
Cello
Yehudi Menuhin Music Guides
William Pleeth
This volume is an introduction to cello playing by the outstanding recitalist, soloist and teacher of international repute whose natural wish – as a teacher – would be to sing, play and show what he means. But a devoted pupil, Nona Pyron, herself a figure of some authority in the world of the cello, has guided and marshaled William Pleeths brilliantly perceptive advice into the confines of this valuable book. She also provides a brief but thorough introduction to the history of the cello and cello playing.
Yehudi Menuhin Music Guides is an immensely important series of books, each one
on a different group of instruments within the orchestral family.
The series is aimed at music students of all ages, amateur musicians, music teachers
and all readers actively committed to music.
Cello Master Class
[DVD]
Maria Kliegel
In her book and DVD project Using Technique and Imagination to achieve Artistic Expression, Quintessence in 3 parts, the famous cellist Maria Kliegel opens up
a new avenue that is intended to help advanced cellists over these obstacles.
Using numerous examples from the cello repertoire, the book is a distillation
of her experience. The 2 DVDs provide a demonstration of the cello techniques,
for the bow and for the left-hand, described in the book.
Maria Kliegel also plays and analyzes the infamous passages from the Cello Concertos by Haydn (D) and Schumann and from Tchaikovsky's Rococo Variations.
Cello Technique – Principles and Forms of Movement
Gerhard Mantel
Obligatory reading. – from the foreword by Janos Starker.
Cello Technique is not an instruction book or a cello method
but a scientific explanation of learning processes, bodily movements, and principles
of sound production. Simple drawings and easily performed experiments show
how to conserve energy and avoid fatigue and muscular tension.
Gerhard Mantel discusses placement of the fingers on the fingerboard,
position changes, vibrato, and various types of bowing; and he offers valuable advice on getting the most out of practicing and how not to practice.
Complete Cello Technique
The Classic Treatise on Cello Theory and Practice
Diran Alexanian
The Classic Treatise on Cello Theory and Practice.
An unabridged republication of Diran Alexanian's 1922 classic,
Traite Theorique et Pratique du Violoncelle , this volume represents
one of the most thorough explorations of cello playing and technique
in the literature. It reprints the orginal dual-language edition, featuring French
and English instruction side by side on the page, complemented by numerous photographs, diagrams, and music examples. Students and growing professionals alike will find it superb compendium of instruction.
Conversations With Casals
J. Ma. Corredor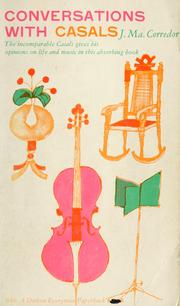 Each person has inside a basic decency and goodness.
If he listens to it and acts on it,
he is giving a great deal of what it is the world needs most.
It is not complicated but it takes courage.
It takes courage for a person to listen to his own goodness
and act on it.

Pablo Casals